Professor Messer | Mar 01, 2012 | Comments 0

Are you ready to be certified in one of
technology's fastest growing fields?

Are you looking for comprehensive Security+ training that won't cost an arm and a leg?

Do you need downloadable HD video, portable video,
MP3 audio, and presentations to help you
pass your Security+ certification exam?

What is Professor Messer's CompTIA SY0-301 Security+ Certification Training Course?
My online video courses provide high-quality training materials for the world's most popular certification exams. Over five million Professor Messer videos have been viewed, and thousands more are watched every day. I've helped students, teachers, and IT professionals around the world with my focused training materials.
I've designed my Security+ training course to work with anyone's study materials. Every topic has its own video segment, allowing you to integrate my training course into any book, how-to guide, or Q&A manual. I also include every video in a small portable format for mobile devices, and MP3 audio to listen when you're driving or walking. I also include PDF versions of every slide so you can follow along or take notes.

Total course size:

184 Videos – Total Running Time: 14 hours, 48 minutes

Over Eight Gigabytes of video and audio training!
Here's what you'll get in my Security+ training course:
You'll get every video in both 720p (1280×720) and VGA (640×360) MPEG-4 format, and all of them can be downloaded immediately. All of the videos are playable through free media players such as

Apple Quicktime

or

VLC media player

.

Unlike video courses you may have seen from other companies, my videos have NO digital restrictions. Use them on your PC, Mac, iPhone, Android device, Kindle Fire, iPad, or any other compatible device. I want you to use my training, wherever you might be!
| | |
| --- | --- |
| | The audio from every video is also provided as high-quality MP3 files. This audio version of my CompTIA Security+ video course is only available in this downloadable package! |
| | |
| --- | --- |
| | Every slide from every video has been converted into an Adobe Acrobat PDF file, the "universal" format for viewing files. You can view these on your computer, your mobile device, or print them out to use as notes as you follow along with the videos. |
Here's a screenshot from just one of the videos that you can download right now: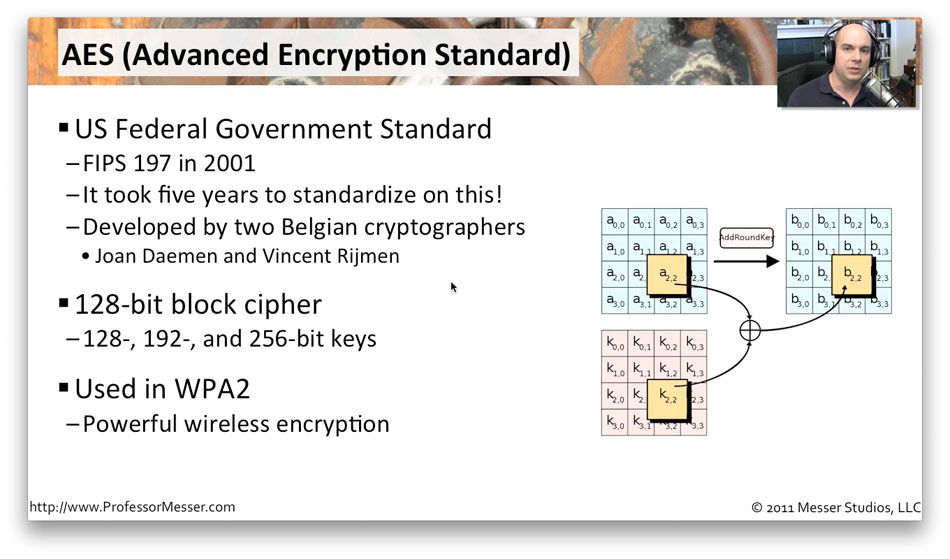 Here's the entire library of Professor Messer's
Downloadable CompTIA Security+ Training Course
Section 1: Network Security
37 videos



Section 2: Compliance and Operational Security
44 videos




1.1 – Network Devices, 7 videos (29:42)
1.2 – Network Administration, 9 videos (36:16)
1.3 – Network Design, 9 videos (26:54)
1.4 – Common Protocols, 6 videos (19:00)
1.5 – Common Ports, 2 videos (9:30)
1.6 – Securing your Wireless Network, 4 videos (12:19)

2.1 – Dealing with Risk, 7 videos (34:11)
2.2 – Mitigating Risk, 6 videos (16:41)
2.3 – Incident Response, 9 videos (31:46)
2.4 – Security Awareness, 7 videos (21:01)
2.5 – Business Continuity, 5 videos (15:55)
2.6 – Environmental Controls, 4 videos (12:10)
2.7 – Disaster Recovery, 5 videos (37:02)
2.8 – Confidentiality, Integrity, and Availability, 1 video (5:10)




Section 3: Threats and Vulnerabilities
47 videos



Section 4: Application, Data, and Host Security
12 videos




3.1 – Malware, 7 videos (46:49)
3.2 – Attacks, 7 videos (43:59)
3.3 – Social Engineering, 7 videos (27:33)
3.4 – Wireless Attacks, 6 videos (35:01)
3.5 – Application Attacks, 7 videos (50:51)
3.6 – Deterring and Mitigating an Attack, 7 videos (48:07)
3.7 – Discovering Threats and Vulnerabilities, 4 videos (29:07)
3.8 – Penetration Testing and Vulnerability Scanning, 2 videos (16:34)

4.1 – Application Security, 4 videos (18:36)
4.2 – Host Security, 5 videos (35:52)
4.3 – Data Security, 3 videos (17:16)
Section 5: Access Control and
Identity Management
12 videos



Section 6: Cryptography
32 videos




5.1 -Authentication Services, 3 videos (21:52)
5.2 – Authentication, Authorization,
and Access Control, 6 videos (25:20)
5.3 – Account Security, 3 videos (13:56)

6.1 – An Overview of Cryptography, 9 videos (41:00)
6.2 – Using Cryptography, 8 videos (57:23)
6.3 – Public Key Infrastructure, 9 videos (31:23)
6.4 – Implementing PKI, 6 videos (19:49)
Why should I buy this? I thought it was free.
The online-only version of my training course is free, and it will always be free. This downloadable version was created because of the overwhelming number of requests I've received for something portable. Many people wanted a version of the course to take with them on a plane, in the car, or any time they were away from the Internet. With this downloadable version, you can have access to this Security+ training without any online connectivity.
If it's only $199, is it really any good?
Doesn't it seem too good to be true? It's not. I knew that this training course would normally sell for a minimum of $500 US, but my goal was to keep the costs down so that more people would have access to this information.
If you've seen our online product
, then you know we're offering a huge amount of information with quality production values for very little cost. It's something that could happen on the Internet.
Who are you, and why should I buy a training course from you?
I've spent my career in Information Technology as an instructor, consultant, and technologist. I've published books, numerous video training courses, podcasts, and I write technical articles on web sites across the Internet. I hold numerous industry certifications, including CompTIA Security, A+, and Network+. Don't just take my word for it:

All the videos are awesome and most of all they are free and very easy to understand. Thanks Professor Messer, You Rock!

- Ptlhanang via site comments


Awesome material! I just passed the SY0-301 test easily and all I used was this site!

- Will via web site comments



Professor Messer, Just wanted to let you know that at the start of June I selected the SY0-301 exam instead of the 201. The bookstores did not have the new material available yet so I scrambled to find something to reference on the net. I found your videos on YouTube first, then your site. Long story short, I reviewed all that you had (at the time only the 3 sections) and have passed the exam. I credit your instruction for helping in the passing of the test!

- Neil via web site comments


Training Course Delivery
This training course a digital download, and it's available to you immediately. Once your payment is authorized, you'll get an email with your members-only login and course download links. You will have instant access to the entire training course!


Due to bandwidth requirements, it is highly recommended that you have high-speed Internet access if you plan on downloading the course.
Feel At Ease

Even after all that you've seen and read, I'll add one more thing to this offer. You are covered by my NO RISK, 100% money back guarantee. Download the videos, watch them on your computer, download them to your portable video player, listen to the audio, and follow along with the slides. If after thirty days you don't feel absolutely certain that you've received a quality CompTIA Security+ video training course, I'll give you your money back. No questions asked. I want to be sure that every student is happy, successful, and CompTIA Security+ certified!
Whether you decide to buy this edition of our training course or you watch it online for free, we want to thank you again for your ongoing support. We wish you the best of success in your studies!
- James "Professor" Messer


"CompTIA" and "CompTIA Security+" are registered trademarks of The Computing Technology Industry Association, Inc.
All CompTIA Security+ certification training content is ©2012 Professor Messer, LLC.

Filed Under: Featured
Comments (
0

)