Secrets of Network Cartography: A Comprehensive Guide to Nmap

Click play to listen
to a message
from Professor Messer!


- Available Now -

Secrets of Network Cartography:

A Comprehensive Guide to Nmap

Second Edition

Written by James "Professor" Messer







Click Here to Purchase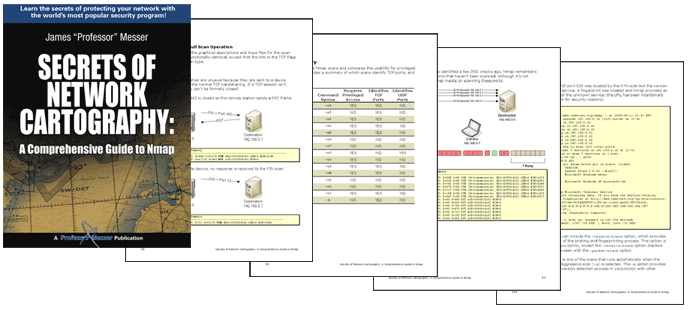 "The book is absolutely the most thorough documentation available on this pivotal program. Yes Nmap has a man page, this book goes into the low level mechanics of how Nmap works."
- Jim Kelly, Gaithersburg, MD
"Nmap is an extremely advanced tool and with the help of James' book, I was able to identify new methods of Nmap scanning that will help advance my security career."
- Chuck Smith, Orlando, Florida
Here are just a few of the Nmap secrets contained in this 230-page ebook:
Introductory information steps through the basics of IP networking and the methods that Nmap uses to communicate via TCP and UDP.
Ever wonder which Nmap scan was the right one to use? Thirteen different Nmap scans are profiled, with advantages, disadvantages, and usage guidelines for each one. Each scan method includes graphical scan descriptions and packet-by-packet analysis!
Nmap includes seven different ping types, and we'll show you exactly how they work!
Nmap's operating system fingerprinting can provide amazing detail about a remote device using only fourteen IP frames that never open an application session or log in. How is that possible? This book will show you!
Over fifty additional Nmap options are documented, including ways to customize host specifications, port numbers, logging methods, packet tracing, data tuning, packet timing, Windows-only options, and many more!
Six "real world" Nmap scenarios are presented from the perspective of the enterprise security manager, including spyware remnant identification, asset management, compliance testing, firewall auditing, and more!
Learn the secrets of protecting your network with Nmap!
"Everything I expected to be in the manual was there. The color printout was the BEST!"
- Shawn Frye, Sunnyvale, California
"Must read for any security, network professional."
- Max A, London
---
BONUS #1:
The Professor Messer Nmap Quick Reference Guide
A $27 value, yours FREE!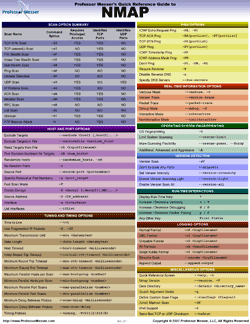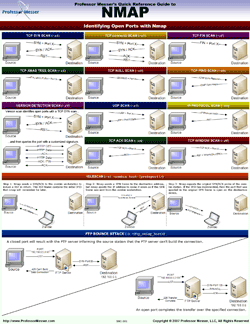 Our popular Nmap Quick Reference Guide was included with the first edition of our Nmap book,
and this new guide has been updated and enhanced. This colorful digital guide can be
downloaded and printed to provide a handy reference of every Nmap option.

Click Here to Purchase
---
BONUS #2:
Professor Messer Webinar Archive
A $47 value, yours FREE!
Every month or so, Professor Messer hosts a webinar that provides free online Nmap training.
Through our webinar technology, we're able to demonstrate Nmap scans and techniques
while our attendees watch live over the Internet.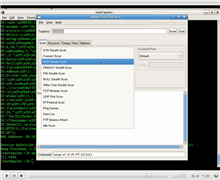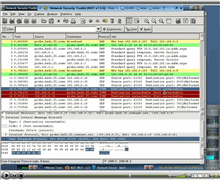 We archive the audio and video of every webinar and put them into a special download area available to our ebook owners.
As new webinars are completed, these new archives are also added to this list. This is a library of Nmap training information
that will never become outdated, and it's available with the ebook at NO EXTRA COST!

Click Here to Purchase
---
"Secrets of Network Cartography is the best available guide to learn Nmap. A complicated tool, explained in a very easy to understand way. I could've never become so interested in Nmap if not for this book."
- Roshan Maharaj, New Jersey
"Secrets of Network Cartography: A Comprehensive Guide to Nmap is THE Book on Nmap. As a network and security engineer this book is a must for day to day work."
- Sean Muller, Jacksonville, Florida
"Extensive knowledge can be gained from Professor Messer's Nmap book.Recommended material for any network professional."
- Peter Harmsen, Heerlen
"Your book and vidos provide incredible insight into nmap. My skillset is vastly improved after going through them. Thanks for the help and education."
- Gary Burnett, Kansas City, Kansas
You Are Covered By Professor Messer's
NO RISK, 100% Money Back Guarantee
Order now, read the entire ebook, use the quick reference guide, and follow along with the trace file output.
If after thirty days you don't feel absolutely certain that you've learned something new about Nmap,
I'll give you your money back. No questions asked.
– James "Professor" Messer
Download the ebook, quick reference guide,
and hours of webinar training video replays RIGHT NOW:
ONLY $47.00 US!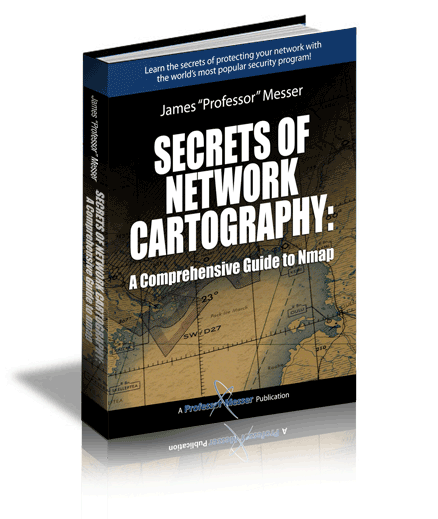 Click Here to Purchase
---

This premium e-book edition is provided in Adobe Acrobat PDF format.
Download a free Adobe Acrobat reader here:

---

Nmap is a trademark of Insecure.Com LLC.