I Want to Give you the Tools that will Save Time, Streamline Your Studies, and Teach You Exactly What You need to Know!
Core 2 Notes &
Exams Combo
Your Search for the Ultimate Set of 220-1002 A+ Study Materials is Over
The 220-1002 Core 2 A+ certification is a comprehensive exam, and even the most seasoned IT professional can be overwhelmed with everything they need to know to pass the test.
Here's a story I hear ALL THE TIME:
Someone will tell me about their 220-1002 A+ exam experience and how the scope and complexity of the exam was completely unexpected.
When the exam was over, their final score was a disappointing FAIL.
They've just paid over $200 US on the exam voucher, and now they have to spend that money again for the retake.
Don't let the A+ certification stand between you and a job offer, promotion, or your family's financial security!
Professor Messer's CompTIA 220-1002 Core 2 A+ Course Notes
Save time, save money, and pass your Core 1 A+ Exam!
My Course Notes consolidate all of my video content into an easy to read guide.
You won't find a better summary of 220-1002 A+ exam objectives anywhere else!

Professor Messer's CompTIA Core 2 A+ Practice Exams
Are you ready for the 220-1002 Core 2 A+ Exam?
My Practice Exams have been carefully written to give you the same feel and structure as the actual exam.
If you're planning to take your Core 2 A+ exam, then you need to take my Practice Exams first!

Professor Messer's CompTIA 220-1002 Core 2 A+ Success Bundle
Combine my A+ Success Bundle with your book to learn better and faster!
Here's what you'll get: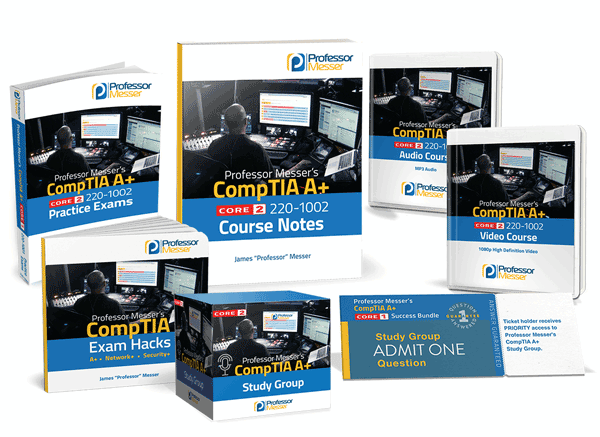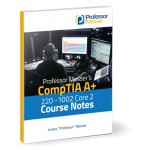 Professor Messer's Core 2 A+ Course Notes
This is the comprehensive summary of the 220-1002 A+ exam objectives and the details from my Core 2 training course.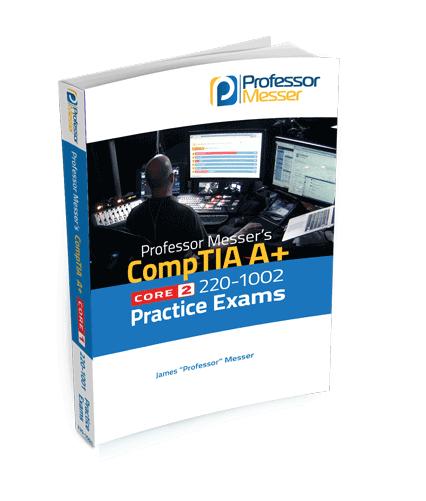 Professor Messer's Core 2 A+ Practice Exams
These high-quality questions and answers provide a feedback loop that helps you understand why an answer is right, and why other answers might be wrong.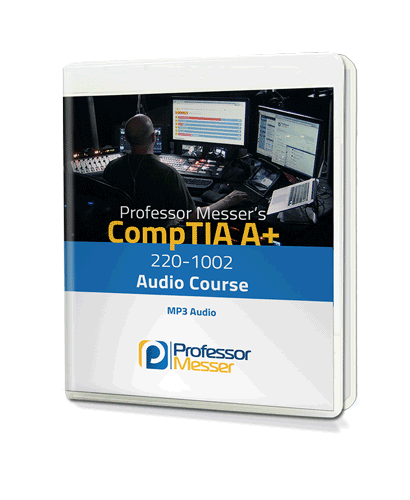 Professor Messer's Core 2 A+ Audio Course
Take this audio-only version of my 220-1002 A+ course with you during your commute or at the gym. Take advantage of this valuable study time!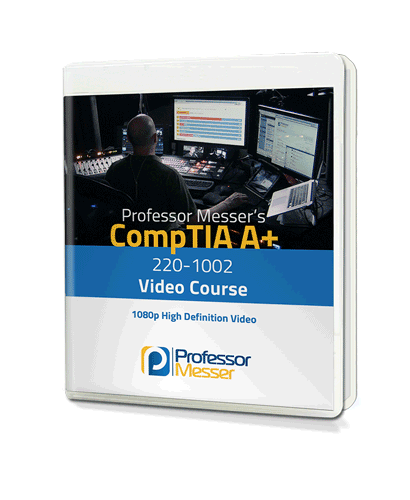 Professor Messer's Core 2 A+ Video Course
Save your bandwidth and use my offline video course when you're in a remote area or commuting. Watch as I demonstrate operating system utilities, troubleshooting tasks, and cover every 220-1002 A+ exam objective.
Professor Messer's CompTIA Exam Hacks
My Exam Hacks book will teach you the things about your exam that aren't covered in a textbook! Learn exam strategies that you can use before, during, and after your test!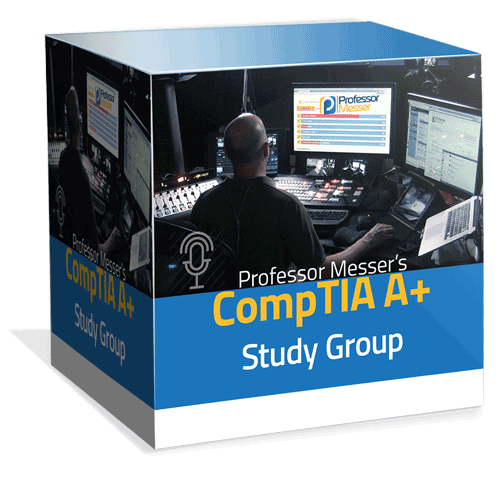 Professor Messer's Core 2 A+ Study Group Audio
My monthly 220-1002 A+ Study Groups are a wealth of questions and answers. My Study Group is an hour of A+ practice questions, and I open the phone lines on the After Show to take questions from you!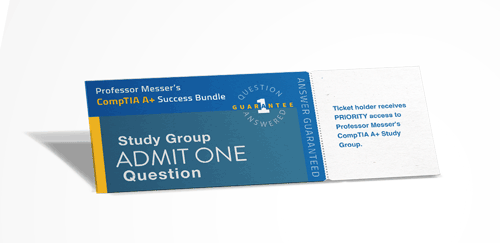 EXCLUSIVE: Priority Access to
Professor Messer's Core 2 A+ Study Group
Get access to my personal experience and knowledge as an A+ certified professional and systems engineer. Each month, you'll get priority question submission and a guaranteed answer on the After Show!
That's over $500 of 220-1002 A+ study materials for $99!
Don't Just Take my Word For It...
See What Others Have Said About My A+ Training Materials!
Just wanted to reach out to thank you for providing all the material that you do for the CompTIA exams. Last year I took and passed the Network+ and I passed the A+ Core 1 in December and passed the Core 2 a couple weeks ago. Your notes, videos and podcast episodes were extremely helpful!
I just wanted to send you a personal thank you. Today I passed my 1001 exam, I would not have been able to do that without you. On to the 1002! Thank you so much!
Thank you for this top quality course. I have passed both 220-1001 and 220-1002 from the first attempt. Within 2 weeks I was employed as an IT support engineer! 😀
I passed both my 1001 and 1002 yesterday and I'm now Comptia A+ certified...Your PDF notes available for purchase on your website was also a great way to quick reference and refresh the exam objectives prior to my exams. Good luck to everyone planning to take the exam!
Hey Professor! I just wanted to tell you how much I appreciate all your content. This month I passed both 1001 and 1002 exams using primarily your videos/study groups. All the information was presented clearly and covered everything I needed to know.
I passed my A+ because of your videos, notes and quizzes. I greatly appreciate the time you take to create these videos and the written material.
My A+ training materials are available immediately as a digital PDF download. Once your payment is authorized, your products will be available for immediate download from a secure area of this website.
Core 2 Notes &
Exams Combo
Get my A+ study materials now, and walk into your exam
prepared, confident, and ready for anything!