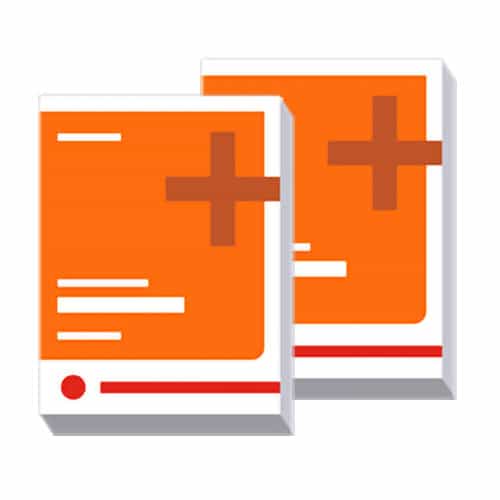 CompTIA 220-1101 and 220-1102 A+ Starter Pack eBooks – Digital Editions
Single Course eBook List Price: $89 / Your Price: $79
Combo Course eBook List Price: $178 / Your Price: $153
Buy both and save $25!
FREE BONUS: Professor Messer's Course Notes PDF – Digital Edition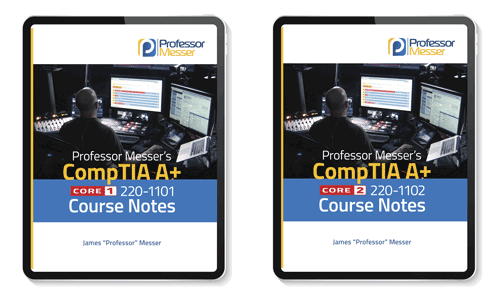 Every Starter Pack purchase includes my exclusive Course Notes PDF! Get a summary of my 220-1101 Core 1 A+ video course or my 220-1102 Core 2 A+ video course in these consolidated notes.
My Course Notes are only available at ProfessorMesser.com. You can download the PDF from your member area immediately after purchase.
Get these Course Notes (valued at $25 each) for free!
Designed for self-paced learners, this book covers all the latest A+ Core 1 & Core 2 (220-1101 and 220-1102) exam objectives and is packed with informative and accessible content. Includes the following:
Content aligned to work in the real world – Lessons refer to functional areas within the job role while Topics relate to discrete job tasks
Review questions at the end of each topic to confirm understanding
Comprehensive glossary with important terms and acronyms
What you'll learn
The Official CompTIA A+ Core 1 & Core 2 Study Guide (220-1101 and 220-1102) has been developed by CompTIA for the CompTIA certification candidate. Rigorously evaluated by third party subject matter experts to validate adequate coverage of the A+ Core 1 & Core 2 exam objectives, the Official CompTIA A+ Core 1 & Core 2 Study Guide teaches the essential skills and information required for the CompTIA certification exam (220-1101 and 220-1102).
Topics covered in these Study Guides:
Installing Motherboards and Connectors
Installing System Devices
Troubleshooting PC Hardware
Comparing Local Networking Hardware
Configuring Network Addressing and Internet Connections
Supporting Network Services
Summarizing Virtualization and Cloud Concepts
Supporting Mobile Devices
Supporting Print Devices
Configuring Windows
Managing Windows
Identifying OS Types and Features
Supporting Windows
Managing Windows Networking
Managing Linux and macOS
Configuring SOHO Network Security
Managing Security Settings
Supporting Mobile Software
Using Support and Scripting Tools
Implementing Operational Procedures
Publication date: April 20, 2022
Author: James Pengelly

Step 1- Purchase your eBook:
Click one of the links above to purchase your Starter Pack eBooks.
Step 2 – Check your email:
We will process your order and send the access code and instructions to your email address within 24 hours.
Step 3 – Redeem your access code
eBooks are delivered through the Official CompTIA Self-Paced Study Guide eReader. This platform gives browser-based access to the full content with bookmarking, search, and annotation features. You will receive an access key and full instructions for accessing the platform within 24 hours of purchase.
Access keys must be redeemed within 12 months of purchase.
---
We're always available to help with any questions. You can click the "Contact Us" link at the top of the site, or open a ticket from your member area.
Thanks for your ongoing support, and good studies!