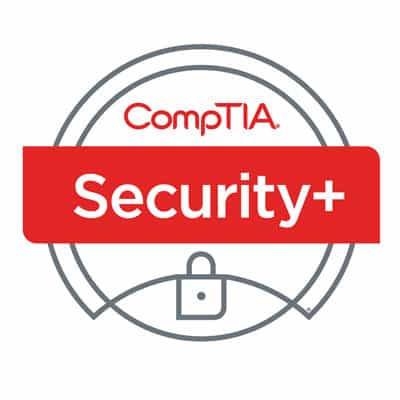 CompTIA Security+ Voucher
List Price: $392 / Your Price: $352
Save $40!
FREE BONUS: Professor Messer's Exam Hacks eBook
Every voucher purchase includes my exclusive Exam Hacks eBook! Learn exam strategies you can use before, during, and after your test.
My Exam Hacks eBook is only available at ProfessorMesser.com. You can download the eBook from your member area immediately after purchase.
Get this Exam Hacks eBook (valued at $25) for free!
Step 1- Pick your voucher:
Click the link above to purchase your voucher.
Step 2 – Check your email:
We will process your voucher order and send the voucher code to your email address within 24 hours.
Step 3 – Schedule Your Exam:
When you're ready to take your exam, schedule your test on the Pearson VUE website:
https://home.pearsonvue.com/comptia
On the checkout page, choose the option to "Add Voucher or Promo Code."
---
We're always available to help with any questions. You can click the "Contact Us" link at the top of the site, or open a ticket from your member area.
Best of luck with your exam, and good studies!
Important Terms and Conditions
Vouchers
Vouchers are non-refundable and non-returnable.
Vouchers can only be used by individuals physically located in the United States, Canada, Puerto Rico, and Guam. This applies to both online and in-person exams.
One voucher is applicable towards one exam at an authorized CompTIA Test Service Provider.
All vouchers are valid for approximately one year from the date of purchase.
You must register and take your exam prior to the voucher expiration date.
Voucher expiration dates cannot be extended under any circumstances.
Vouchers cannot be redeemed for cash or credit.
Vouchers may not be resold.
Vouchers are program specific, and in some cases, exam specific.
Vouchers are not transferable between programs.
CompTIA and its authorized Test Service Providers are not responsible for lost or stolen vouchers.
Certification exam retirement dates supersede voucher expiration dates. CompTIA may retire certifications and corresponding exams prior to voucher expiration dates.

Scheduling Your Exam
Confirmation emails are automatically sent for your exam appointment time.
Contact the Test Service Provider if your confirmation email is not received the same day.
Exams must be rescheduled a minimum of 24 hours prior to your appointment time.
Rescheduling an exam less than 24 hours prior to your appointment or failure to appear for your appointment will result in the forfeiture of your exam fee.