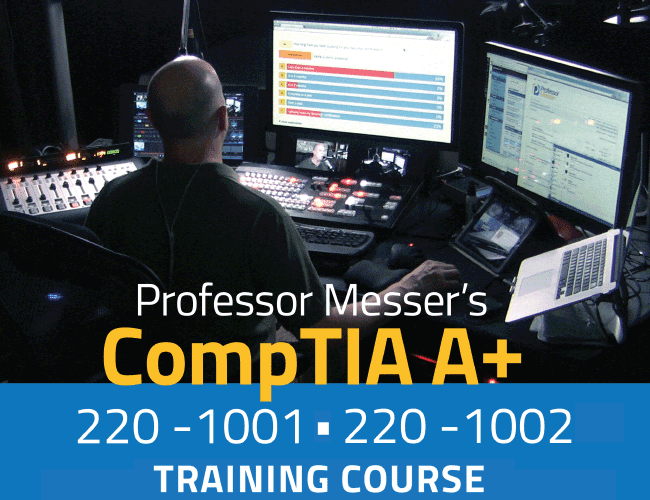 This is the index to my free CompTIA 220-1001 and 220-1002 A+ training course videos.
All of my training videos are completely free; all of the videos online right now!
This course is in active production, and new videos are added frequently.
Click here to subscribe to my YouTube channel and receive new video notifications!
65 Videos – Total Running Time (so far!): 7 hours 57 minutes

Who is Professor Messer? Are all of these videos really free? Read our frequently asked questions here.
Have you downloaded the exam objectives yet? Click here to get them now.
CompTIA 220-1001 A+ Training Videos
Section 0: An Overview of the A+ Certification
Section 1: Mobile Devices




Laptop Hardware
1.2 – Laptop Displays
1.3 – Laptop Features
1.4 – Mobile Devices
1.5 – Mobile Device Accessories
1.6 – Mobile Device Connectivity
1.7 – Mobile Device Synchronization
Section 2: Networking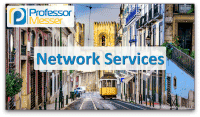 2.1 – Ports and Protocols
2.2 – Network Devices
2.3 – SOHO Networks
2.4 – Wireless Networks
2.5 – Network Services
2.6 – Network Configurations
2.7 – Internet Connections
2.8 – Network Tools
Section 3: Hardware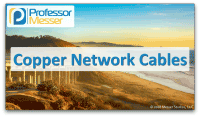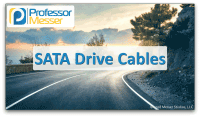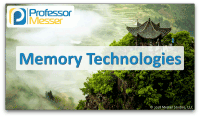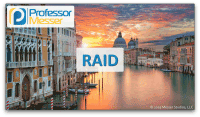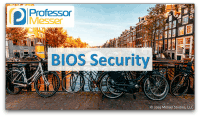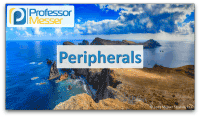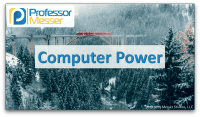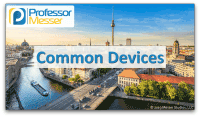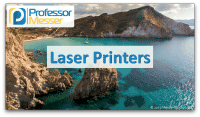 3.1 – Cables and Adapters
3.2 – Connectors
3.3 – Memory
3.4 – Storage
3.5 – Motherboards, CPUs, and Add-on Cards
3.6 – Peripherals
3.7 – Power
3.8 – Custom PCs
3.9 – Common Devices
3.10 – SOHO Multifunction Devices
3.11 – Print Technologies
Section 4: Virtualization and Cloud Computing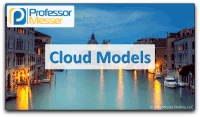 4.1 – Cloud Computing
4.2 – Client-side Virtualization
Additional Study: Professor Messer's A+ Study Groups
A+ Study Group Replays

2019 – 220-1001 A+ Study Group Sessions
Category: CompTIA A+ 220-1001