You'd like to view the applications that run when Windows XP starts and modify some of your BOOT.INI file settings. What utility allows you to manage these startup processes?
A) System File Checker
B) Event Viewer
C) MSCONFIG
D) Registry Editor
The answer: C) MSCONFIG
The MSCONFIG utility provides multiple uses, and it's a good one to know when you're trying to determine what's happening when Windows starts.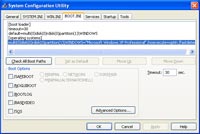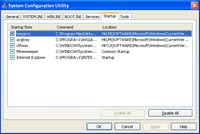 Click for larger image

The incorrect answers:
A) System File Checker
The Windows XP system file checker is used for checking the integrity of system files and replacing any files that might be corrupted or missing.

B) Event Viewer
The Windows event viewer shows application errors, security problems, and other messages, but it can't help you manage the startup process of your Windows XP operating system.

D) Registry Editor
The registry editor is useful for viewing and changing application configurations, but it doesn't have a single interface for managing startup programs and it can't help with editing the BOOT.INI file.

Want to know more? Watch "Diagnostic Utilities and Tools."


There are numerous utilities that can assist with the diagnosing of problems in the Windows operating system. In this video, we'll work with the Task Manager, Device Manager, Event Viewer, MSCONFIG utility, Remote Desktop, System File Checker, Registry Editor, and demonstrate the features of the Computer Management console.

Category: CompTIA A+ Pop Quizzes