On this picture of a motherboard, the IDE #2 port is labeled at the bottom of the picture. What port is just above it?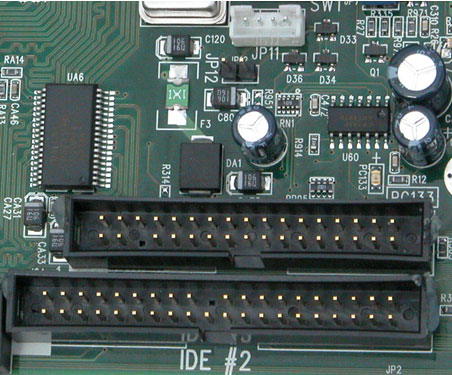 A) CD-ROM port
B) SCSI port
C) Floppy drive port
D) IDE #1 port
Answer: C) Floppy drive port
The motherboard connections for floppy drives have their own design that departs from any other standard. Floppy drive ports aren't PATA, SATA, or SCSI, but instead have their own specialized functionality. You'll only see one floppy drive port on a motherboard, and these days it's becoming more difficult to see them in use.
The incorrect answers:
A) CD-ROM port
Today's CD-ROMs attach to the IDE/PATA ports. Before standards were created with the ATA standard to allow the connection of peripherals like CD-ROMs, SCSI ports were often used to connect CD-ROMs. This smaller motherboard port isn't an ATA or SCSI port.

B) SCSI port
SCSI ports take many shapes and sizes, but this port doesn't look like a SCSI connection.

D) IDE #1 port
Although it's logical that an IDE #1 port would be located very close to the IDE #2 port, not all motherboards follow a completely logical layout. On this motherboard, the IDE #2 port is located close to the floppy drive port because floppy drives and hard drives are often mounted together inside of the computer case. On this motherboard, the IDE #1 port is about six inches away and out of the frame of this picture. Another big tip is that the IDE #2 and IDE #1 ports would also be the same size with the same number of pins, unlike the floppy port shown here.