From an architectural perspective, what motherboard component handles the coordination between the CPU and the memory?
A) Northbridge
B) Southbridge
C) Super I/O Controller
D) Front-Side Bus
Answer: A) Northbridge
The Northbridge is a major coordination point of the CPU, the memory, and occasionally other high-speed interfaces. The Northbridge is sometimes referred to as the memory controller hub, and it handles a huge amount of communication as traffic passes from the CPU to RAM and back.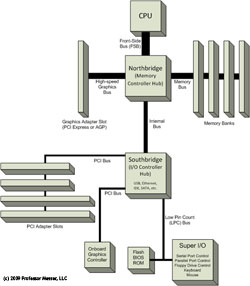 The incorrect answers:
B) Southbridge
The Southbridge usually handles relatively slower or lower-priority traffic from interface cards, USB ports, network connections, and hard drives.
C) Super I/O Controller
Some of the legacy connectivity to serial ports, parallel ports, and keyboards is managed through the Super I/O Controller.
D) Front-Side Bus
The Front-Side Bus (FSB) is a communications pathway, not a controller or central hub. Communication between the Northbridge and the CPU is through the FSB.
Find out more about motherboards in "Motherboard Overview."


Every CompTIA A+ professional needs to have a complete understanding of motherboards and the components that reside on today's PC motherboard technology. In this video, we'll provide you with the information you need to instantly identify the most important motherboard features, and you'll learn how chipset architectures relate to real-world motherboard configurations.