You need to examine a computer's physical disk drive configuration and hard drive partition information. What utility provides a view into the disk configuration of a Windows XP system?
A) Device Management
B) Event Viewer
C) Disk Defragmenter
D) Disk Management
Answer: D) Disk Management
The disk management utility provides information on attached drives, partition information, drive capacity, disk space utilization, and much more.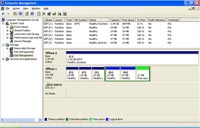 Click for larger image

The incorrect answers:

A) Device Management
The device management utility provides driver-level information on devices and checks to see if the Windows operating system is properly accessing the hardware.

B) Event Viewer
If there are problems with a hard drive, there may be information written to the event viewer. However, partition information and disk statistics are not available from the event viewer.

C) Disk Defragmenter
The disk defragmenter will help optimize the efficiency of reading and writing information to a drive, but it won't provide details about partitions or hard drive configurations.