An end user is reporting that applications running on his computer slow down to a crawl for minutes at a time. The problem occurs without warning, and the time between incidences appears to occur randomly. You'd like configure the system to track performance such as pages per second, average disk queue length, and processor time percentage over an entire business day. Which Windows utility could accomplish this?

A) Event Viewer
B) Control Panel
C) Computer Management
D) Performance / System Monitor
Answer: D) Performance / System Monitor
Intermittent problems are some of the most difficult to troubleshoot, since you never know when they'll occur. Fortunately, the Windows System Monitor provides visibility into hundreds of system statistics. Although this utility is labeled "Performance" in the Control Panel, the actual name of the utility is System Monitor.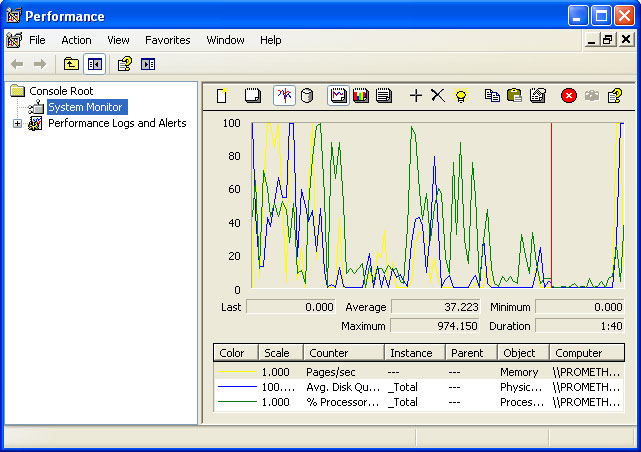 Incorrect Answers
A) Event Viewer
The event viewer provides extensive log information about system events, but ongoing statistics aren't logged to the event viewer.
B) Control Panel
The control panel is a container for many different system utilities, so it can't capture any statistics by itself.
C) Computer Management
The computer management option in the Administrative Tools area of the control Panel is a grouping of useful utilities, but Computer Management is not a utility program. Computer Management is based on the Microsoft Management Console, and it's a great central place to start many different utilities. You can view System Monitor log files from Computer Management, but you can't start tracking statistics from there.