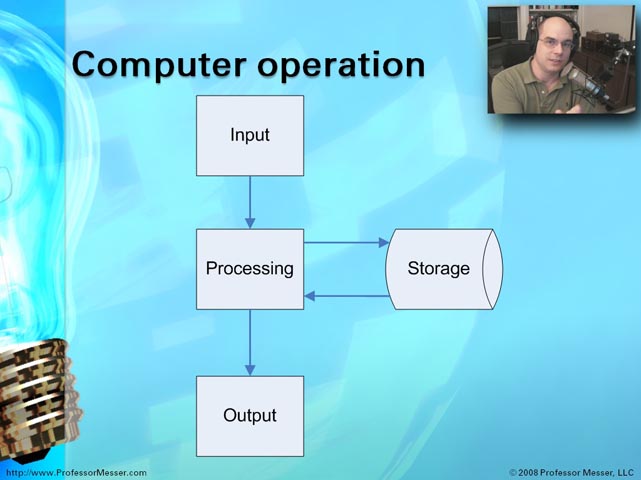 Now that we've seen the inside and the outside of the computer, let's approach it from a higher perspective. How do all of these things work together? A very basic flowchart of how the computer works is drawn here. Before the computer can do anything, you have to provide it with some input. You can see our input at the top is providing that capability. We've got a way to use our keyboard to provide input, we can use our mouse to provide input, and we can also take input provide it through other components in this system (it may not just be a mouse and keyboard). Input is the only way to get information into the system.
At the center of this picture, there's a "processing" box. That box doesn't only represent the central processing unit, but it's also a representation of all of the different processes that occur on the motherboard. The motherboard has to receive the input, provide an output, have a way to think about what it's receiving and perform calculations to it, so there's always some processing that must take place.
During this processing phase, there may also be a transfer into and out of some type of storage. We've already seen different kinds of storage on the motherboard. There was memory where you can temporarily store information, there were hard drives where you can store information over a long period of time, and I even had floppy drives where I could store information from my computer, take it out of my system, take it to a different computer, put it into the new floppy drive and use it as a storage system on that new computer.
Finally, you see there's an output setting. The output allows us to see what the computer has done. That output might to our screen, which is a very common way to receive the output. We want to see what we've done and see the results. We can also have it output onto a printer.
These computer operations are the processes that are occurring many times across many different components on your system at millions and millions of times per second. This basic computer operation uses all of those different components we saw on our computer, and they're all working to perform that common goal such as reading your email, watching this particular presentation, or anything else that you need your computer to do.