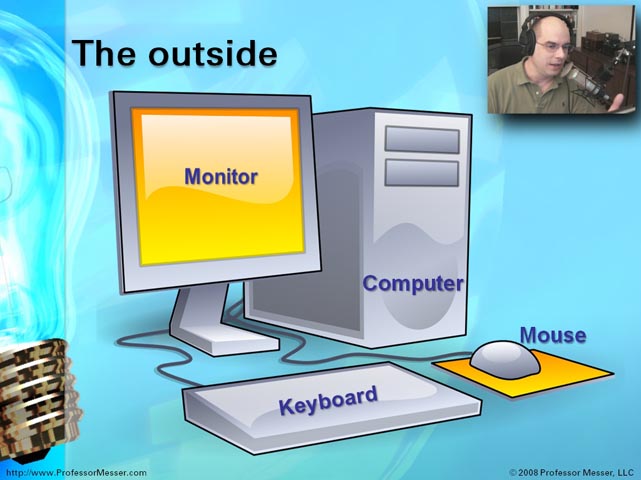 Let's start with the outside. What's on the outside of the computer system? When we start looking at a computer we can see a number of things that are found on every computer. The first would be the monitor. We need to have some way to see what we're working with; the monitor provides that functionality for us. The picture here is of an LCD monitor. Monitors can be very small, very large, can be a cathode ray tube (CRT) or an LCD, but the purpose is still the same. The monitor shows us the output from the computer system.
We also usually have some type of keyboard interface. The keyboard will allow us to type and provide input to the computer. Where the monitor was providing output, the keyboard is an input device – very much like our mouse. They keyboard is providing direct input of the letters and the mouse is allowing us to move the cursor around the screen so that we can act and react to what we're seeing there.
And finally we have the computer itself. Sometimes you'll hear this referred to as the CPU. "You need to turn on and off your CPU," but in reality there's a lot more inside of that device than a CPU. So calling it a very generic term, the "computer," is probably the best way to go about it.