You've been studying for weeks on your CompTIA A+ exam requirements, and you're almost ready to take the exam. You now know the details of motherboards, memory, and operating systems, but who's going to tell you about the information that's not in any of the books?
What are the top test objectives that most people study?
What can you expect when the door
of the exam room closes behind you?
How can you ensure the best possible test environment?
What strategies can you use during the exam
to give you the best possible score?
The new 2009 exam is out! What's new? What's been dropped?
Should you take the new exam or the old exam?
Presenting Professor Messer Live:
The Professor Messer CompTIA A+ Exam Prep Webinar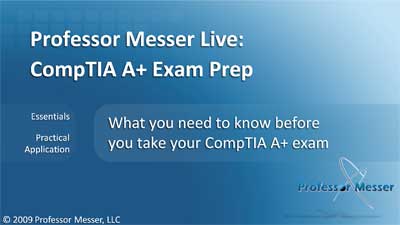 Get instant access to the audio and video recording of this two-hour online event,
presented by Professor Messer.
| | |
| --- | --- |
| | Download the replay right now! |
Already registered on ProfessorMesser.com?
Click here to add the webinar event from your membership page.
Here's everything that we covered live
in this jam-packed two-hour webinar:

Changes in the CompTIA A+ Exam

– What are the new 220-7xx certification requirements?
What's missing? What does the new CompTIA A+ Bridge exam cover?




Professor Messer's most popular study topics

– Visitors to ProfessorMesser.com have watched over half-a-million videos. Which ones have been the most popular? What is everyone else studying?




Preparing for the exam

– I've taken a lot of computer-based certification exams, and I'll
tell you the things you must do before scheduling your exam.




Tips and tricks during the exam

– Once you've started your exam, there are some nifty tips
that can will be sure your final score is as high as possible!




My personal experiences

– I've recently updated my CompTIA certification to the 2009 version,
and I'll give you my personal impressions of the new exam.




Live Q&A

– I'll be taking live questions during the webinar, so please ask me what you're thinking!
What this exam prep webinar isn't:
This isn't a replacement for a comprehensive CompTIA A+ study course

– You would need days of training to cover all of the topics, and we've only got two hours! If you need more training in the fundamental's of the CompTIA A+ exam requirements, just watch our free online video training course.




This isn't a rehash of the CompTIA A+ exam requirements

– This webinar is going to tell you what you won't find on the exam requirements or books! Our exam prep webinar is designed to give you the information and tips you need to translate your knowledge into something you can use on the exam.




This isn't a shortcut or a cheat

– Every person who takes the exam electronically signs a non-disclosure agreement. We won't be providing you with any exam questions or telling you about any exam content specifics. Instead, we'll show you how to make the most of your time in the exam room!
How does this webinar thing work?
This webinar was virtually attended using our GoToWebinar meeting room,
the industry's most popular web-conferencing system.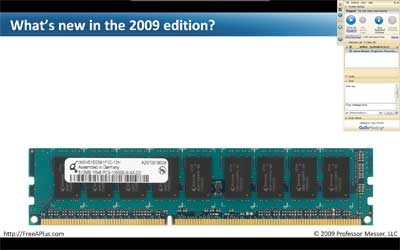 Watch on the web

– You'll see everything that I see on my screen, and you'll hear every word that I say. It's like you're sitting right next to me!




Call from any phone and participate

– You can use any telephone to hear the conference, even if you're away from the computer.




Use our built-in VoIP to listen for free

– Use GoToWebinar's built-in voice over IP capabilities, and use your computer speakers and microphone; no phone needed!




Send me an IM

– Ask questions online at any time during the presentation.




We'll be taking your calls

– Voice control allows you to speak directly with Professor Messer during his interactive Q&A sessions




Watch from your computer

– Our webinar works on most Windows and Macintosh operating systems.
Your webinar instructor:
Professor Messer

I've been working in the technology field a long time, and I've been fortunate enough to hold many different positions through those years. In this webinar, I'll bring my experiences directly to you!
20+ years in Information Technology

– I've worked on supercomputers, mainframes, personal computers, and every other computer I can get his hands on.




Author of the book "Secrets of Network Cartography: A Comprehensive Guide to Nmap"

– If you're interested in network security, then you've probably used Nmap.




Author of "Nmap Secrets," a Nmap video training course

– I love doing video courses, and this course was the industry's first video course on the popular Nmap security tool.




Author of Professor Messer's Free CompTIA A+ Certification Training Course

– This course has far exceeded my expectations, and we now have over half-a-million modules watched!




Author of Professor Messer's Free CompTIA Network+ Certification Training Course – This is the industry's only online training course for the Network+ certification.




Holds certifications from CompTIA, Microsoft, McAfee, and many others

– I've got over 20 different computer-based certification exams under my belt, and I've got a lot to tell you about what I've learned in the exam room!

This audio and video webinar replay is
available to you for just $29.95!




Already registered on ProfessorMesser.com?
Click here to add the webinar event from your membership page.




Category: Free CompTIA A+ Training