Professor Messer's CompTIA N10-005 Network+ Course Notes
Professor Messer's Downloadable CompTIA N10-005 Network+ Course Notes
All of my CompTIA Network+ notes in one downloadable PDF!
The CompTIA N10-005 Network+ exam expects you to know the basics of networking technologies, including subnetting, network troubleshooting, network address translation, encryption technologies, proxies, mobile technologies, software tools, and much, much more.

I've built this 11-page course notes by compiling the charts, pictures and tables from my videos. I've also created content specifically for these course notes that you won't see in any of my videos!

Here's a sample of what you'll find:
| | |
| --- | --- |
| | The Course Notes include many charts, especially charts related to IP subnetting. |
| | |
| --- | --- |
| | The Network+ certification includes a big list of protocols, so I built a table that includes every protocol, port number, and description. |
| | |
| --- | --- |
| | Sometimes a picture is better than any text description. I've included all of the images, network diagrams, and graphics from my videos. |
| | |
| --- | --- |
| | If you haven't had much hands-on with network equipment, then some of the topics of the Network+ certification may be difficult to understand. I've added pictures to help show the differences between fiber connectors, copper cables, and much more. |
| | |
| --- | --- |
| | Some Network+ topics involve a number of steps with even more moving parts. I've added step-by-step diagrams and descriptions to help bring those topics home. |
CompTIA N10-005 Network+ Course Notes Immediate Download
These course notes are available immediately as a digital PDF download. Once your payment is authorized, my CompTIA N10-005 Network+ course notes will be available to you via instant online access in a secure area of this website. There is no physical paper or shipping costs!
Thank you for your support of these course notes! Your purchase goes directly to the ongoing support for the Professor Messer website. I wish you the best of luck with your exam studies!
– James "Professor" Messer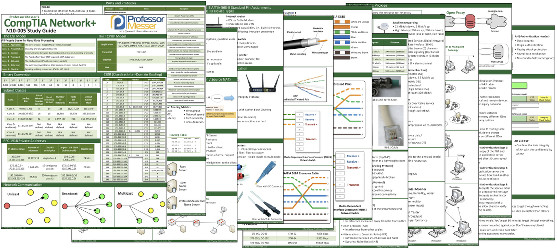 "CompTIA" and "CompTIA Network+" are registered trademarks of The Computing Technology Industry Association, Inc.