Professor Messer's Downloadable CompTIA N10-007 Network+ Training Course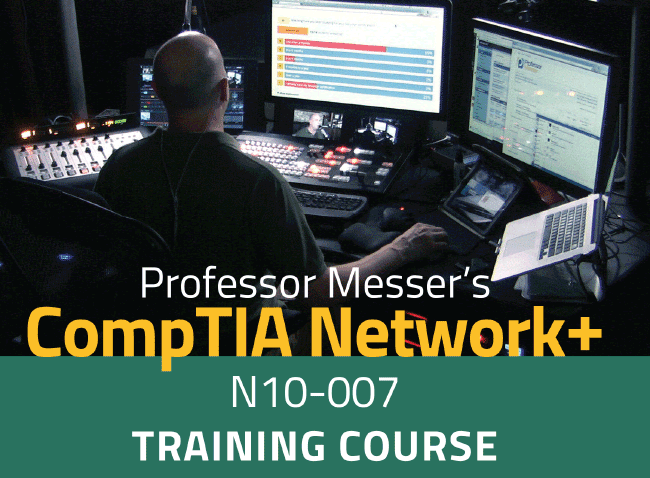 Are you studying for your CompTIA Network+ certification?

Do you need quality training materials, but you don't have hundreds of dollars to spend on a course?

Have you discovered our free online CompTIA Network+ training course, but you'd also like a portable version?
---
What is Professor Messer's Downloadable N10-007 CompTIA Network+ Certification Training Course?
My online video courses provide high-quality training materials for the world's most popular certification exams. Over sixty million Professor Messer videos have been viewed, and thousands more are watched every day. I've helped students, teachers, and IT professionals around the world with my focused training materials.
I've designed my Network+ training course to work with anyone's study materials. Every topic has its own video segment, allowing you to integrate my training course into any book, how-to guide, or Q&A manual. I also include every video in a portable format for mobile devices, and MP3 audio to listen when you're driving or walking.
Total course size:

101 Videos – Total Running Time: 12 hours, 10 minutes
---
Here's what you'll get in this training course:
| | |
| --- | --- |
| | Download my entire CompTIA N10-007 Network+ Training Course, including my 1080p HD videos, every MP3 audio file, and my Course Notes PDF. |
| | |
| --- | --- |
| | The audio from every video has been converted into high-quality MP3 files. You can listen and learn during your commute or while you're working out! |
---
BONUS
| | |
| --- | --- |
| | Every Network+ course includes my popular 66-page Course Notes PDF, which includes all of the important details from every video. The physical edition of the course includes a printed version of the Course Notes. |
---
Why should I buy this? I thought it was free.
The online-only version of my training course is free, and it will always be free. This offline version was created because of the overwhelming number of requests I've received for an offline version. Many people wanted a version of the course to take with them on a plane, in the car, or any time they were away from the Internet. With this downloadable version, you can have access to my entire Network+ training course without any online connectivity.
It's so inexpensive; is it really any good?
Doesn't it seem too good to be true? It's not. I knew that this training course would normally sell for a minimum of $500 US, but my goal was to keep the costs down so that more people would have access to this information.
If you've seen my online videos
, then you know I'm offering a huge amount of information with quality production values for very little cost.
Training Course Delivery
This training course is available immediately as a digital download. Once your payment is authorized, you'll get an email with your members-only login and course download links for instant access to the entire training course!
If you order the physical edition, I'll also send you a copy of the course on my exclusive Professor Messer USB flash drive. Shipping worldwide is free and most orders are shipped within three to five business days. You'll receive an email to verify your address and with tracking details.
Due to bandwidth requirements, it is highly recommended that you have high-speed Internet access to download the course. The total download size is approximately 3.5 gigabytes.
Feel At Ease

Even after all that you've seen and read, I'll add one more thing to this offer. You are covered by my NO RISK, 100% money back guarantee. Download the videos, watch them on your computer, transfer them to your portable video player, listen to the audio, and follow along with the Course Notes. If you decide you're not 100% satisfied within the first 7 days of your purchase, I'll give you your money back. No questions asked. I want to be sure that every student is happy, successful, and CompTIA Network+ certified!
Whether you decide to buy this version of our training course or you watch it online for free, I want to thank you again for your ongoing support. Good studies!
– James "Professor" Messer
---

When you order right now, you get IMMEDIATE ACCESS to download
over 12 hours of Professor Messer's CompTIA N10-007 Network+ training course videos,
audio MP3s and the bonus content.

---


"CompTIA" and "CompTIA Network+" are registered trademarks of The Computing Technology Industry Association, Inc.