CompTIA N10-008 Network+ Ultimate Study Pack
List Price: $479 / Your Price: $454
Save $25!
CertMaster Learn is a self-paced, comprehensive eLearning experience that helps you gain the knowledge and practical skills necessary to be successful on your CompTIA certification exam, and in your IT career.
Interactive and flexible, CertMaster Learn is the ideal first step in your training journey. Instructional lessons are combined with videos, practice questions, and performance-based questions to provide hours of content aligned with the CompTIA exam objectives. A Learning Plan helps you stay on track with your studies, while robust analytics bring awareness of your strengths and weaknesses.
Lessons cover all exam objectives with integrated videos
Hundreds of practice questions test your knowledge
Performance-based questions apply what you've learned in a scenario
Flashcards ensure you know the terminology and acronyms required for the exam
The Learning Plan keeps you on track with your studies
Topics covered:
Lesson 1: Comparing OSI Model Network Functions
Lesson 2: Deploying Ethernet Cabling
Lesson 3: Deploying Ethernet Switching
Lesson 4: Troubleshooting Ethernet Networks
Lesson 5: Explaining IPv4 Addressing
Lesson 6: Supporting IPv4 and IPv6 Networks
Lesson 7: Configuring and Troubleshooting Routers
Lesson 8: Explaining Network Topologies and Types
Lesson 9: Explaining Transport Layer Protocols
Lesson 10: Explaining Network Services
Lesson 11: Explaining Network Applications
Lesson 12: Ensuring Network Availability
Lesson 13: Explaining Common Security Concepts
Lesson 14: Supporting and Troubleshooting Secure Networks
Lesson 15: Deploying and Troubleshooting Wireless Networks
Lesson 16: Comparing WAN Links and Remote Access Methods
Lesson 17: Explaining Organizational and Physical Security Concepts
Lesson 18: Explaining Disaster Recovery and High Availability Concepts
Lesson 19: Applying Network Hardening Techniques
Lesson 20: Summarizing Cloud and Datacenter Architecture
FREE BONUS: Professor Messer's Success Bundle – Digital Edition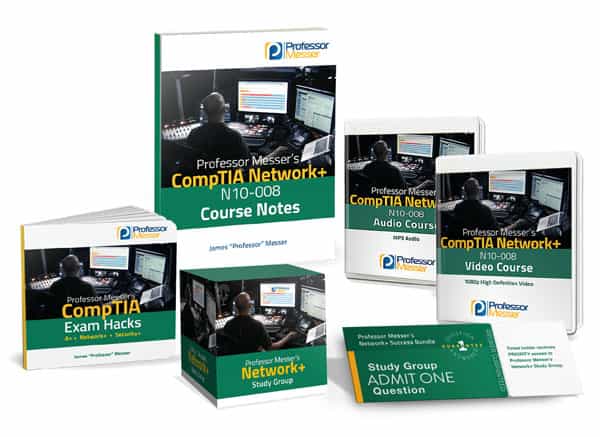 Every Ultimate Study Pack purchase includes the Digital Edition of my exclusive Network+ Success Bundle! This bundle includes my Network+ Course Notes, Video and Audio Training, Exam Hacks eBook, and much more!
My Success Bundle is only available at ProfessorMesser.com. You can download the Success Bundle resources from your member area immediately after purchase.
Get my Success Bundle (valued at $99) for free!
---
Step 1- Purchase your CertMaster Learn:
Click the link above to purchase your access to CertMaster Learn for Network+ and Professor Messer's Network+ Success Bundle Digital Edition.
Step 2 – Check your email:
We will process your order and send the access code and instructions to your email address within 24 hours.
Step 3 – Redeem your access code
The emailed instructions will contain a link and access code to access CertMaster Learn from any browser.
---
We're always available to help with any questions. You can click the "Contact Us" link at the top of the site, or open a ticket from your member area.
Thanks for your ongoing support, and good studies!