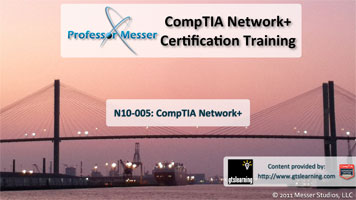 Are you ready to take your technology career to the next level?

Do you need USB flash and downloadable HD video, audio, and
presentation content to help you pass your N10-005 Network+ certification exam?

What is Professor Messer's CompTIA Network+ Certification Training Course?
Our online video courses provide high-quality training materials for the world's most popular certification exams. Over 20 million Professor Messer video modules have been viewed, and thousands more are watched every day. We've helped students, teachers, and IT professionals around the world with our focused training materials.
We've taken the idea of online video presentations to the next level with this Network+ training course. This is the complete library of our Network+ videos in a format that can be watched on your computer in high definition, downloaded to your mobile media player, or dropped into your iPod. We also include still images of every slide from every video, so you can get the most of our training course without ever connecting to the Internet.

Total course size:

189 Videos – Total Running Time: 14 hours, 56 minutes
Here's what you'll get in this Network+ training course:
| | |
| --- | --- |
| | We'll send you the entire contents of our training course on a USB flash drive, including our 720p HD videos, every MP3 audio file, and all of our slides in PDF format! You'll get everything in one package without downloading a single file. |
| | |
| --- | --- |
| | You'll get all 189 videos in 720p (1280×720) MPEG-4 format that can be downloaded immediately. They also look great on your Android or Apple device! |
| | |
| --- | --- |
| | The audio from all 189 videos has been converted into high-quality MP3 files. This audio version of our CompTIA Network+ video course is only available right here. |
| | |
| --- | --- |
| | Every slide from every video has been converted into an Adobe Acrobat PDF file, a common format for viewing complex documents. You can view these on your computer, your mobile device, or print them out to use as notes as you follow along with the videos. |
Here's the entire library of Professor Messer's
Downloadable CompTIA Network+ Training Course
---
Section 1: Networking Concepts – 38 videos


1.1 – OSI and TCP/IP Models, 2 videos (12:43)
1.2 – Real-World OSI, 1 video (6:00)
1.3 – IP Addressing, 8 videos (1:02:33)
1.4 – Routing and Switching, 14 videos (1:05:04)
1.5 – TCP and UDP Ports, 1 video (8:09)
1.6 – Common Networking Protocols, 3 videos (26:44)
1.7 – DNS, 3 videos (21:43)
1.8 – Network Troubleshooting Methodology, 1 video (9:23)
1.9 – Virtual Networking, 5 videos (24:36)
---
Section 2: Network Installation – 41 videos





2.1 – Installing Routers and Switches, 11 videos (44:58)
2.2 – Installing Wireless Networks, 7 videos (28:30)
2.3 – DHCP, 5 videos (16:51)
2.4 – Troubleshooting Wireless Problems, 2 videos (7:52)
2.5 – Troubleshooting Routers and Switches, 11 videos (56:16)
2.6 – Implementing a SOHO Network, 6 videos (24:40)
---
Section 3: Network Media and Topologies – 35 videos


3.1 – Media Types, 8 videos (40:21)
3.2 – Connector Types, 2 videos (15:05)
3.4 – WAN Technologies, 8 videos (39:01)
3.5 – Network Topologies, 3 videos (10:13
3.6 – Troubleshooting Physical Connectivity, 7 videos (27:38)
3.7 – LAN Technologies, 3 videos (15:30)
3.8 – Wiring Distribution, 3 videos (10:07)
---
Section 4: Network Management – 38 videos


4.1 – Network Appliances, 4 videos (15:34)
4.2 – Troubleshooting Tools, 9 videos (28:23)
4.3 – Software Tools, 10 videos (47:22)
4.4 – Network Monitoring, 3 videos (15:13)
4.5 – Configuration Management Documentation, 7 videos (24:50)
4.6 – Network Performance Optimization, 5 videos (23:33)
Section 5: Network Security – 37 videos


5.1 – Wireless Security, 3 videos (10:49)
5.2 – Network Access Security, 4 videos (23:54)
5.3 – User Authentication, 9 videos (36:52)
5.4 – Common Threats, 14 videos (1:04:34)
5.5 – Firewalls, 4 videos (17:31)
5.4 – Network Security Appliances, 3 videos (13:05)
Why should I buy this? I thought it was free.
The online-only version of our training course is free, and it will always be free. This course was created because of the overwhelming number of requests I've received for a more portable version. Many people wanted a version of the course to take with them on a plane, in the car, or any time they were away from the Internet. Students who have limited Internet access want access to this information without the requirement of always-on connectivity.
If it's only $199, is it really any good?
It's a steal, isn't it? I knew that this training course would normally sell for a minimum of $500 US, but my goal was to keep the costs down so that more people would have access to this information.
If you've seen our final product
, you know that we're offering a huge amount of information presented with quality production values for very little cost. It's something that could have only happened through the Internet.
Who are you, and why should I buy a training course from you?
I've spent my career in Information Technology as an instructor, consultant, and technologist. I've published books, other video training courses, and I write technical articles on web sites across the 'net. I hold numerous industry certifications from CompTIA, Microsoft, and other organizations. Don't just take my word for it:

Congratulations on the results of what will have been a massive undertaking. Without doubt your videos contain the best and most comprehensive information presented in a fashion that's easy to understand and assimilate. I really appreciate your efforts as it has helped with both my Network + and MCSA studies.

– Chris via site comments


Thanks for yet another wonderful product. I followed your A+ course and it aided me in getting certified, and I supplemented my studies with your Network+ training and it did the same. Your courses are as good or better than anything I have found on the market.

– Brendan T via web site comments



Just a note to say thanks for all your efforts. I used my books and your modules to blast my A+ IT tech exams first time. I'm a week away from my Network+ exams and your modules are easy to understand and backup my reading with clear consistant info.

Please don't stop!

– Andrew via web site comments


Training Course Delivery
This training course is both digital and physical. Once your payment is authorized, our N10-005 Network+ training course will be delivered to you digitally via instant online access to a secure area of this website.


Due to bandwidth requirements, it is highly recommended that you have high-speed Internet access for downloading the course.
Feel At Ease

Even after all that you've seen and read, I'll add one more thing to this offer. You are covered by my NO RISK, 100% money back guarantee. Download the videos, watch them on your computer, download them to your portable video player, listen to the audio, and follow along with the slides. If after thirty days you don't feel absolutely certain that you've received a quality CompTIA Network+ video training course, I'll give you your money back. No questions asked. I want to be sure that every student is happy, successful, and CompTIA Network+ certified!
Whether you decide to buy this edition of our training course or you watch it online for free, we want to thank you again for your ongoing support. We wish you the best of success in your studies!
– James "Professor" Messer


"CompTIA" and "CompTIA Network+" are registered trademarks of
The Computing Technology Industry Association, Inc.
All CompTIA Network+ certification training content is ©2012 Professor Messer, LLC.