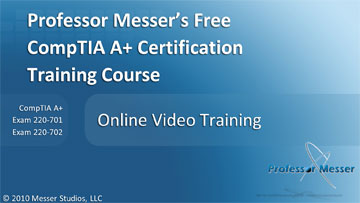 This is the complete index to our series of 220-701 and 220-702 (2009) CompTIA A+ training course videos. All of our CompTIA A+ training videos are completely free; there's nothing to buy when you watch all of our videos online.
The 220-701 and 220-702 exams were retired on August 31, 2013.
The videos on this page are no longer current for CompTIA A+ certification exam study.
You should be watching the
the latest exam videos
instead.
90 Videos – Total Running Time: 22 hours, 31 minutes
CompTIA A+ Frequently Asked Questions
CompTIA 220-701 A+ Essentials

Section 1: Hardware
Section 2: Troubleshooting, Repair and Maintenance
Section 3: Operating Systems and Software
Section 4: Networking
Section 5: Security
Section 6: Operational Procedures
CompTIA 220-702 Practical ApplicationSection 1: Hardware
Section 2: Operating Systems
Section 3: Networking
Section 4: Security
Additional Study: Professor Messer's A+ Study Group Replays