I Want to Give you the Tools that will Save Time, Streamline Your Studies, and Teach You Exactly What You need to Know!
Your Search for the Ultimate Set of Security+ Study Materials is Over
The Security+ certification is a massive exam, and even the most seasoned security professional can be overwhelmed with everything they need to know to pass the test.
Here's a story I hear ALL THE TIME:
Someone will tell me about their Security+ exam experience and how they were completely blindsided by the scope and complexity of the exam.
When the exam ends, their final score is a huge FAIL.
All of this happens after they've already spent over $330 US on the exam voucher, and now they have to spend that money again for the retake!
Don't let the Security+ certification stand between you and a job offer, promotion, or your family's financial security!
Professor Messer's CompTIA Security+ Course Notes
Save time, save money, and pass your Security+ Exam!
My Course Notes consolidate all of my video content into an easy to read guide.
You won't find a better summary of Security+ exam objectives anywhere else!

Professor Messer's CompTIA Security+ Practice Exams
Are you ready for the Security+ Exam?
My Practice Exams have been carefully written to give you the same feel and structure as the actual exam.
If you're planning to take your Security+ exam, then you need to take my Practice Exams first!

Professor Messer's CompTIA Security+ Success Bundle
Combine my Security+ Success Bundle with your book to learn better and faster!
Here's what you'll get: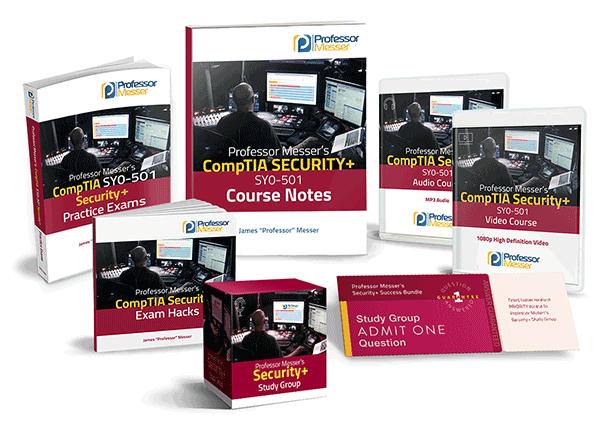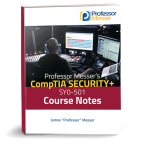 Professor Messer's Security+ Course Notes
This is the comprehensive summary of the Security+ exam objectives and the details from my Security+ training course.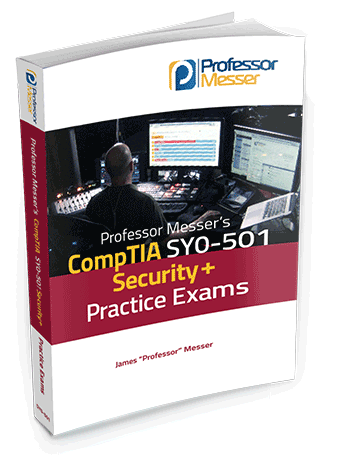 Professor Messer's Security+ Practice Exams
These high-quality questions and answers provide a feedback loop that helps you understand why an answer is right, and why other answers might be wrong.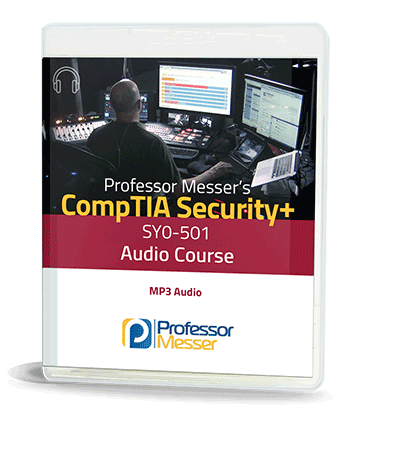 Professor Messer's Security+ Audio Course
Take this audio-only version of my Security+ course with you during your commute or at the gym. Take advantage of this valuable study time!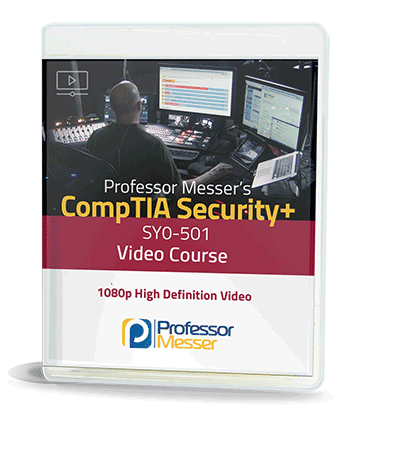 Professor Messer's Security+ Video Course
Save your bandwidth and use my offline video course when you're in a remote area or on the train to work. Watch as I demonstrate network attacks, port scans, and cover every Security+ exam objective.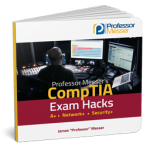 Professor Messer's CompTIA Exam Hacks
My Exam Hacks book will teach you the things about your exam that aren't covered in a textbook! Learn exam strategies that you can use before, during, and after your test!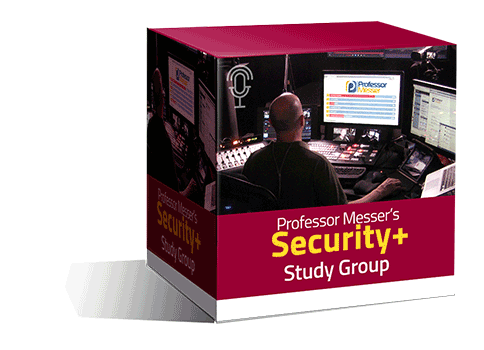 Professor Messer's Security+ Study Group Audio
My monthly Security+ Study Groups are a wealth of questions and answers. My Study Group is an hour of Security+ practice questions, and I open the phone lines on the After Show to take questions from you!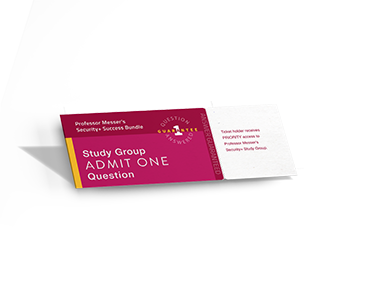 EXCLUSIVE: Priority Access to
Professor Messer Study Group
Get access to my personal experience and knowledge as a Security+ certified professional and cybersecurity systems engineer. Each month, you'll get priority question submission and a guaranteed answer on the Study Group After Show!
That's over $500 of Security+ study materials for $99!
Don't Just Take my Word For It...
See What Others Have Said About My Security+ Training Materials!
I wanted to thank you for your great videos and course notes. This morning I passed my SY0-501 exam with an 833. Thank you again. Your material was invaluable!
I am new to IT, and was offered a once in a lifetime shot working as a desktop support tech for the Department of Defense. In accordance to the new mandates, DOD employees have to possess a Sec + cert. I tried so many other methods, until one day stumbled across your videos. The rest is history! The videos of course are wonderful, but what helped me retain this information was the hard copy of the notes I purchased from you. I was able to use that as a guide, and mark off things I knew, and work harder on those that I didn't know well enough.
I just wanted to drop a line to you that I passed my Security + exam today on the first attempt. I utilized your notes and You Tube videos to assist my efforts. The thing that really put an exclamation point was your new Practice tests!! They are phenomenal. Just wanted share how your materials are the best.
Professor, I passed my security+ exam with the help of your practice test, and your videos. Just wanted to say Thanks for your help.
My Security+ training materials are available immediately as a digital PDF download. Once your payment is authorized, your products will be available for immediate download from a secure area of this website.
Get my Security+ study materials now, and walk into your exam
prepared, confident, and ready for anything!