Professor Messer's CompTIA SY0-501 Security+ Training Course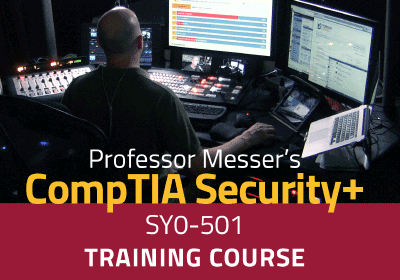 Are you studying for your
CompTIA Security+ certification?

Do you need quality training materials,
but you don't have hundreds of dollars
to spend on a video course?

Have you discovered our free online
CompTIA Security+ training course,
but you'd also like a portable version?
---
What is Professor Messer's Downloadable SY0-501 CompTIA Security+ Certification Training Course?
My online video courses provide high-quality training materials for the world's most popular certification exams. Over fifty million Professor Messer videos have been viewed, and thousands more are watched every day. I've helped students, teachers, and IT professionals around the world with my focused training materials.
I've designed my Security+ training course to work with anyone's study materials. Every topic has its own video segment, allowing you to integrate my training course into any book, how-to guide, or Q&A manual. I also include every video in a small portable format for mobile devices, and MP3 audio to listen when you're driving or walking.
Total course size:

140 Videos – Total Running Time: 13 hours, 45 minutes
---
Here's what you'll get in this training course:
| | |
| --- | --- |
| | Download my entire CompTIA SY0-501 Security+ Training Course, including my 1080p HD videos, every MP3 audio file, and my Course Notes PDF. If you purchase the physical edition of the course, I'll ship these to you on a USB flash drive. |
| | |
| --- | --- |
| | The audio from every video has been converted into high-quality MP3 files. You can listen and learn during your commute or while you're working out! |
---
BONUS
| | |
| --- | --- |
| | Every Security+ course includes my popular 94-page Course Notes PDF, which includes all of the important details from every video. The physical edition of the course includes a printed version of the Course Notes. |
---
Why should I buy this? I thought it was free.
The online-only version of my training course is free, and it will always be free. This offline version was created because of the overwhelming number of requests I've received for something portable and offline. Many people wanted a version of the course to take with them on a plane, in the car, or any time they were away from the Internet. With this downloadable version, you can have access to my entire Security+ training course without any online connectivity.
If it's only $199, is it really any good?
Doesn't it seem too good to be true? It's not. I knew that this training course would normally sell for a minimum of $500 US, but my goal was to keep the costs down so that more people would have access to this information.
If you've seen my online videos
, then you know I'm offering a huge amount of information with quality production values for very little cost.
Who are you, and why should I buy a training course from you?
I've spent my career in Information Technology as an engineer, instructor, and consultant. I've published books, numerous video training courses, and podcasts. I hold numerous industry certifications, including CompTIA Security+, A+, and Network+. Don't just take my word for it:

All the videos are awesome and most of all they are free and very easy to understand. Thanks Professor Messer, You Rock!

– Ptlhanang via site comments


Your site helped me pass my Security+ test today!

– William via email



Thank you for the amazing videos! I found your site about a week before my Security+ exam
and watched as many as I could and passed the exam.

– Joe M via web site comments