Tag: cards
The installation of troubleshooting of personal computer adapter cards is an exercise that requires an understanding of both hardware and software components. In this video, you'll learn the steps to take when installing an adapter card and what Windows components are necessary to ensure that the device driver software works properly with the adapter card hardware.
One of the most enabling aspects of personal computer is its ability to be modified, upgraded, or changed based on the requirements of the end user. With adapter cards, a personal computer can be customized to meet almost any need. In this video, you'll learn about adapter card architectures, multimedia adapter cards, input/output adapter cards, and communications adapter cards.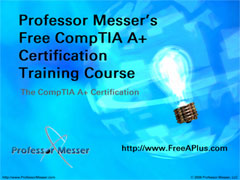 Adding adapter cards are convenient ways to add additional functionality to personal computer systems. This chapter provides an overview of adapter cards and steps through the process of installing both adapter card hardware and the necessary device driver software.