Tag: connectors
Most of our network connections are going to use copper as a physical media. In this video, you'll learn about some of the most popular ways to connect our copper networks together.

Which of these would be most likely to connect to a computer through a PS/2 connector?
If you look at the back of any computer, you'll find many different ports staring back at you. In this video, you'll learn to recognize some of the most common motherboard ports and connectors, including audio ports, video ports, and communication interfaces.
If you've worked in this industry for any amount of time, you know that there's a different connector for everything! In this video, you'll learn about common connector types that are used in the networking field and how they can help you with copper and fiber connections.
Every personal computer cable connector is designed to provide a specific function, and some of these capabilities have changed dramatically through the years. In this video, you'll learn about standard computer connectors and how to use cable adapters to change gender, connect serial connections, or extend network connections.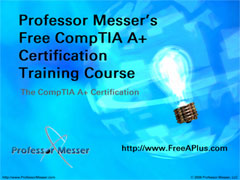 The personal computer has a large and diverse set of ports, connectors, and cables. The CompTIA A+ professional needs to recognize the most common ports and connectors and hot to use and support each port.