Tag: line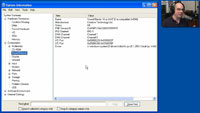 You'd like to verify that a computer across the network is operating. What command line utility can check the remote device for availability?

You have downloaded a new set of mouse drivers, but you're not sure if the new driver contains the same files as a previous version. What Windows command-line program can compare the contents of two files?

You are organizing the files on your hard drive, and you'd like to create separate directories to organize your spreadsheets by month and year. What command line function can be used to create a directory?